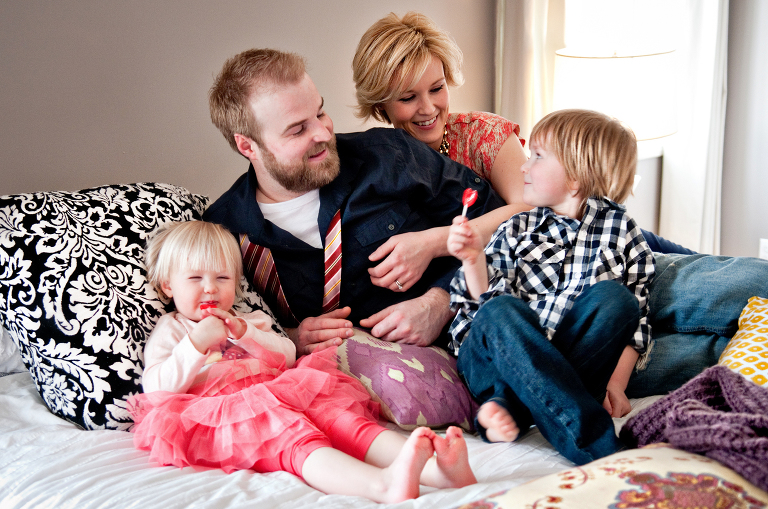 Here are a few ideas, suggestions & guidelines:
– The most important, choose outfits that are comfortable & that make you feel good.
– Outfit changes are welcomed, and they give variety to the pictures.
– Beware of logos & patterns as they might distract from the truly important aspect of the pictures: you!
– Coordinate your outfits. It is not necessary for all clothes to match or to wear the exact same thing. Everybody should wear items that complement each other in styles and colors. Stick to the same color family or complementary tones.
– Keep in mind that darker colors are slimming & also a little easier to photograph.
– Denim & khaki pants are classics & works well with any color. They also never goe out of style.
– Wear the same style of make up that you would wear on a normal day. Select colors that look natural on your skin tone, and avoid experimenting with new colors before the photo shoot. Consider bringing powder or blotting papers to eliminate shine during the photo shoot. You want to look like yourself.
– Wear something that you feel defines your personal style.
– Accessorize with your favorite jewelry, scarves, hats, belts, shoes & sunglasses. (Avoid large, distracting accessories)
– Be as formal or as casual as you like.
– Dogs are welcome! If you would like to have your dog in some of the photos, it would be best to have a friend come along to watch him/her while we are taking other shots.
Young Children & Babies:
– Feel free to bring along a favorite toy, musical instrument, scarf etc. This may not be used in the main family shots but can be photographed for a fun shot & to have a photographic memory.
Maternity:
Expecting a baby is one of the most exciting times in your life. It's important to capture the essence and beauty of the pregnancy.
– Wear something that is form-fitting or made of lightweight material, so your stomach will not be camouflaged.
– Since your bump will be exposed, it is important that, for a couple of hours before the shoot, you don't wear any tightly fitting clothes across it. We don't want any marks left by waist bands etc.
Other things to remember:
– Plan on having a great time!